In an interview with NME (3 May 2003, page 27) Thom Yorke explains how he composed the lyrics for Hail to the Thief:
"From the album title … it's possible to get a first impression of 'Hail To The Thief' as an overtly political album. It is, says Thom, not quite as cut and dried as that.
'The point, which you chaps have failed to grasp, perhaps understandably,' he says, 'is that I was cutting these things out, and deliberately taking them out of context, so they're like wallpaper.
'Then, when I needed words for songs I'd be taking them out of this wallpaper, and they were out of any political context at all.'"
This method of composition mirrors that of dadaist poet Tristan Tzara. Not surprisingly, the following image explaining how to make a dadaist poem was culled from one of Radiohead.com's previous incarnations: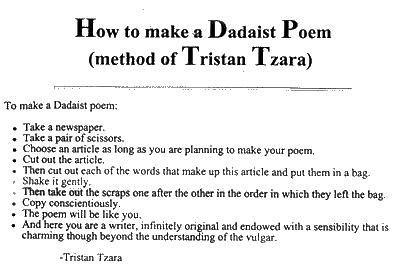 You can read an essay on dadism by Tzara.